Unfortunately, you still can't really talk about sneaker releases—how they come and go—without talking about the supply chain issues still interrupting them. The global footwear industry remains unsettled. The sneakers you're expecting may not show up when they're supposed to, or they may not show up at all. Through those obstacles, though, there have been plenty of exciting shoes in the first half of the year. These are the sneaker releases that you have to talk about when you talk about 2022, or at least the first six months of it.
We reserve the right to completely and totally pivot on these choices come our more definitive rankings at the end of the year, casting some aside and elevating others. Part of understanding which sneakers are good and which are not is seeing how well they stick around. There are certain shoes that are hot for a moment, or ones that seem like a big deal upon their initial release, that don't really have any lasting impact. Sneakers can sour mere weeks after their launch. So when you check back in on us for Complex's final 2022 ranking of the best sneakers of the year, things here may have changed. But until then, these are the best sneakers of 2022 so far.
10. Rick and Morty x Puma MB.01
Release Date: February 18
Price: $135
It's not often that you'll find a Puma shoe on our Best Sneakers of the Year list, and a lot of that has to do with the lackluster product the brand has been putting out lately. But the signing of future star LaMelo Ball has helped its attempts to shift that narrative. Combine the fact that Ball's first signature shoe is quite good with Rick and Morty as a collaborative partner and you gave one of the 10 best sneakers of 2022 so far. The hype behind this sneaker is surprisingly big—it sold out almost immediately and currently flips on StockX for well over double its retail value. Of course, mismatched basketball sneakers are not for everybody, but a lot of factors are working in this shoe's favor to earn it some recognition. —Ben Felderstein
9. Joe Freshgoods x New Balance 9060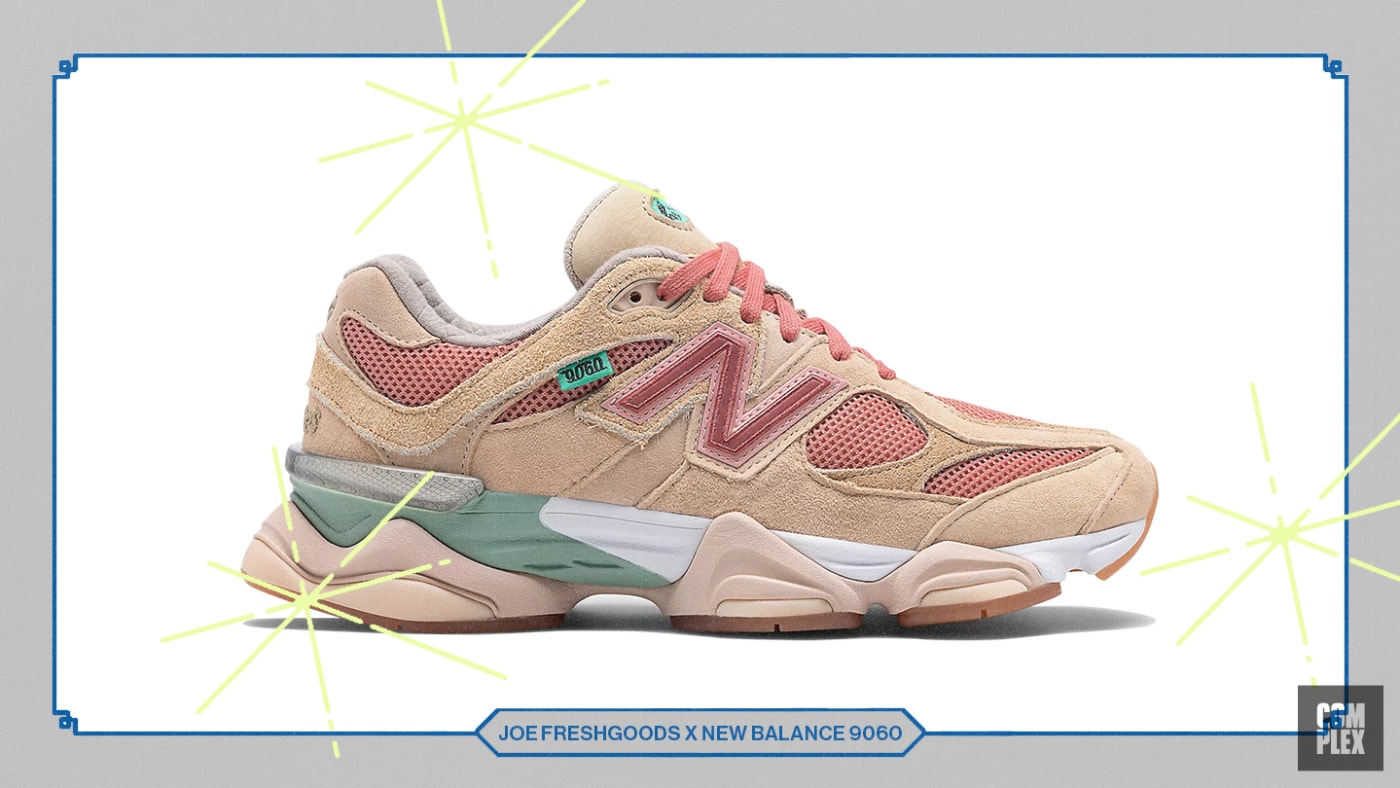 Release Date: May 18
Price: $180
New Balance follows a pretty reliable formula when it comes to its shoes. Keep the models simple, only adding slight modifications to make things better as the years go on. Very rarely do we see drastic updates to sneakers or new iterations that make people feel strong emotions. The 9060 breaks that mold. Its upper is similar to that of the brand's 990 lineage, although it has more daring lines and a pointier toe. But the sole unit is where the 9060 has made its own waves.
Instead of thick, sturdy tooling like many New Balance shoes, the 9060 has podular units, which culminate on and protrude from the heel. The sneaker launched through a two-shoe collaboration with Joe Freshgoods via Instagram's new footwear release platform. There were major glitches with the initial drop, which caused Instagram to re-release the shoes. The 9060 is now starting to get the general release treatment, and while it's not yet known how the shoe will be received in the future, it's definitely a sneaker of the moment. —Matt Welty
8. Gucci x Adidas Gazelle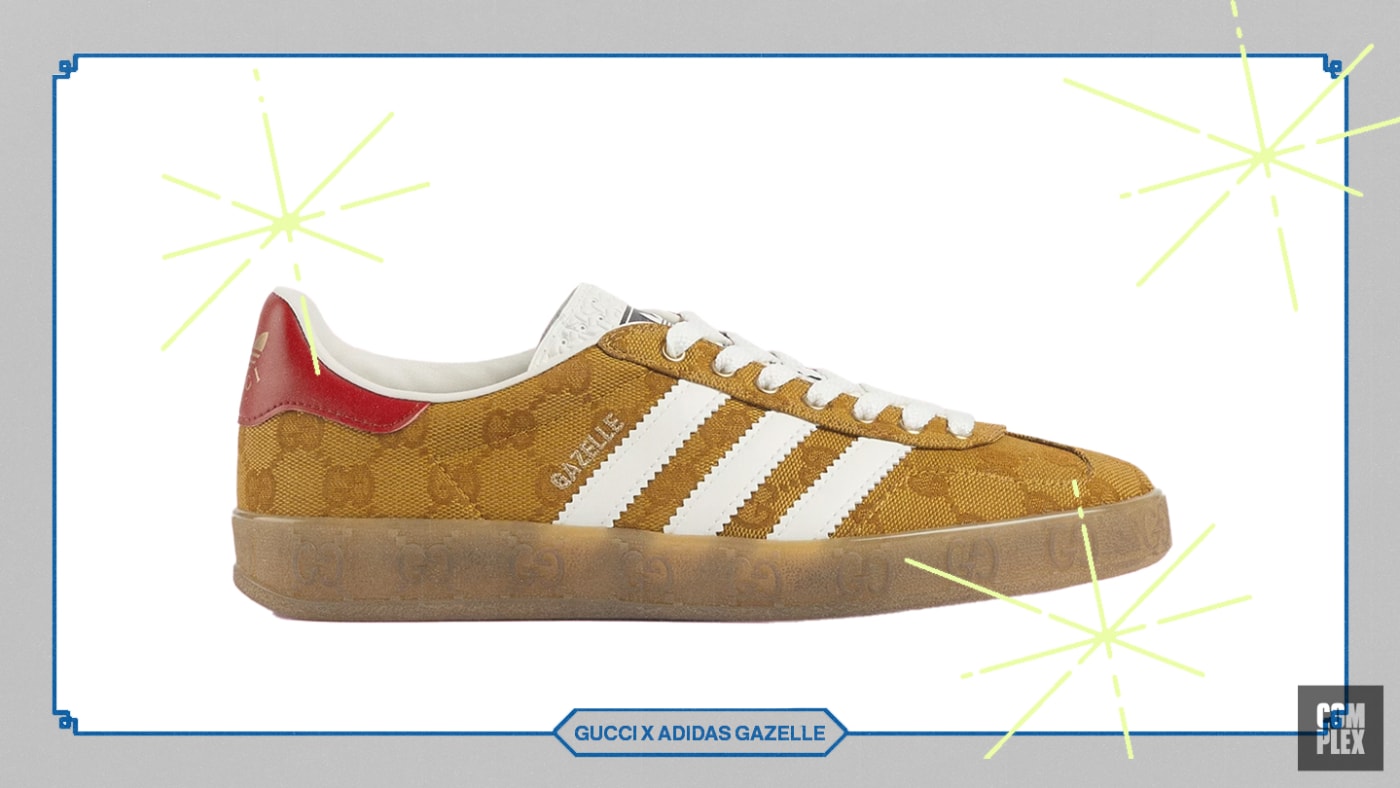 Release Date: June 7
Price: $850
I didn't want to like these at first. I love Gazelles, although Adidas completely rinsed the shoe five to six years ago. Gazelle Indoors aren't as good as the regular Gazelle, which is an iteration from the '90s. The see-through gum sole with the Trefoil tread is quite good. But let's cut to the chase: An Adidas x Gucci collaboration is massive. When the project was first announced, there were some heel-ish dress shoes and sneaker fanatics who were confused about whether there'd be anything for them in it. There ended up being a handful of Gazelles, and they were done up in premium materials with the right details. The standout pair was embroidered with Gucci's monogram print and included Gucci's logo on the outsole. All in all, it's a good shoe that is the best of both worlds. The price, at $875, made the shoes aspirational and out of reach for the average consumer. Is that good? Hard to say. It made it an easy pass for many, but those who have the funds might try to get a pair. Heard they run big, so size accordingly. —Matt Welty
7. Nocta x Nike Hot Step Air Terra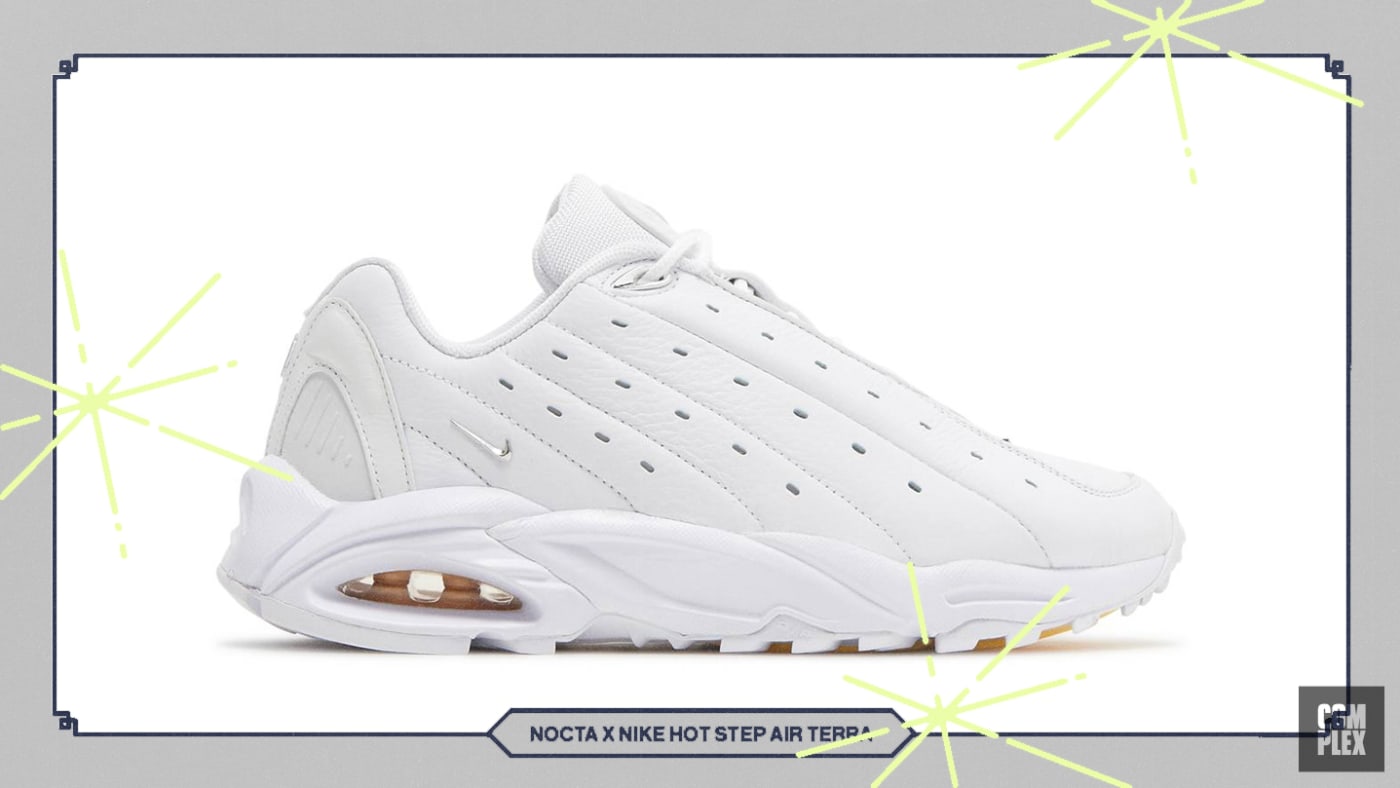 Release Date: March 3
Price: $180
Drake's Nocta x Nike Hot Step Air Terra is hardly the first collaborative sneaker to wear his name. But after years of Air Jordan collabs and a successful apparel line with Nike (following a brief break as he flirted with other brands), the Canadian superstar finally has a model to call his own. The sneaker unexpectedly takes design insights from trail running shoes, seen most obviously in its rugged outsole tread and 3M detailing. The initial all-white and all-black colorways that launched left some fans feeling underwhelmed, especially after such a long wait for something totally new. That delay was something that's become all too familiar in the sneaker world as of late, a result of supply chain issues that have plagued the industry for the past two years. What's most impressive is that the sneaker truly looks like it could have come from the heyday of Nike's '90s ACG line. Maybe those who are less than impressed just don't get it yet. —Zac Dubasik
6. Travis Scott x Nike Air Max 1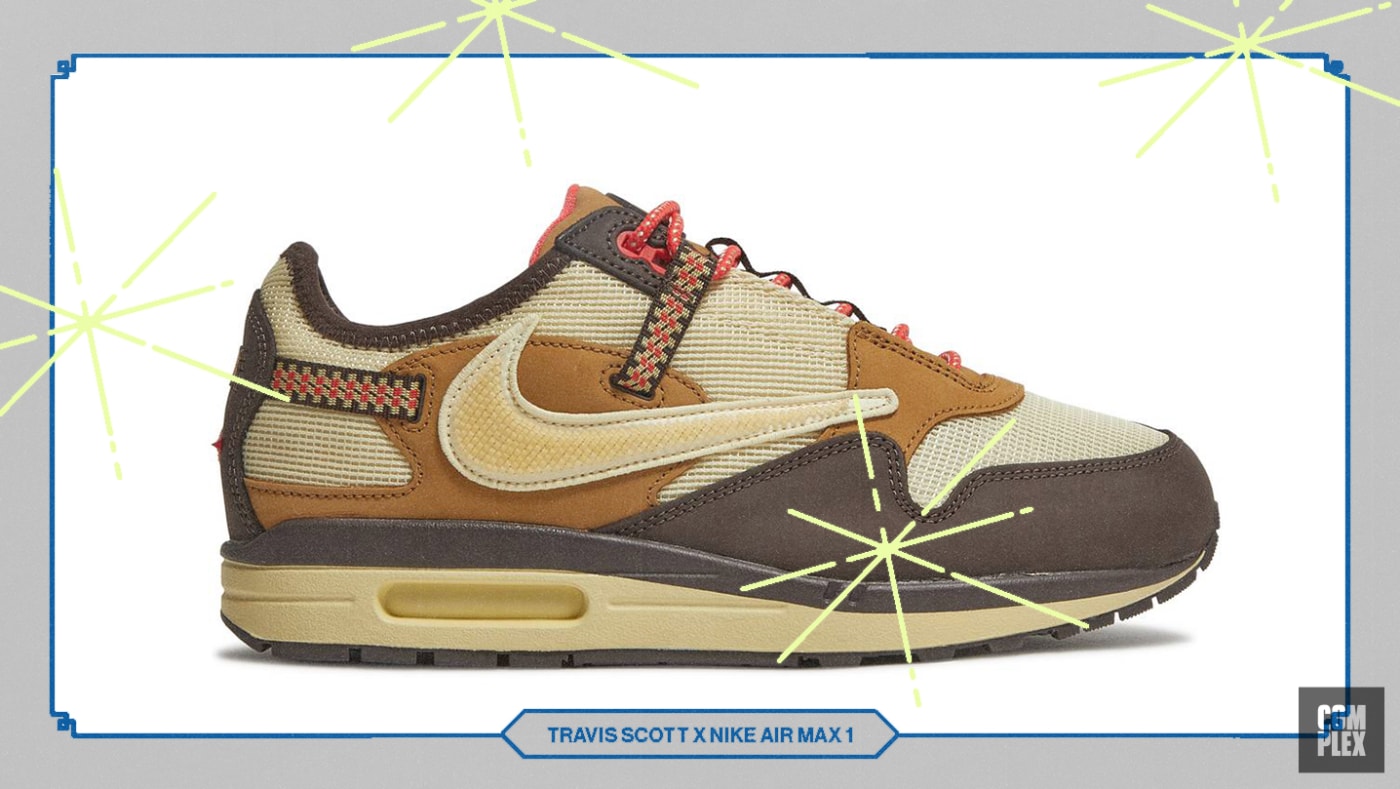 Release Date: May 27
Price: $150
If ever there was a collaboration with true baggage, it would be the Travis Scott x Nike Air Max 1. What began with a shock drop during a moment when Travis Scott had the world's attention didn't come to fruition till nearly seven months later, after his Astroworld Festival went awry and turned deadly. The sneaker itself wasn't directly related to the events that transpired, but it will be forever linked with the disastrous evening. That makes the shoe's own merits a bit hard to judge, but when it's separated from the tragedy that led to its delayed launch, some pretty interesting details come to light. The earth tone color schemes and reversed Swooshes are elements we've come to expect from Cactus Jack collabs, but what wasn't as obvious was the dip into the '90s Nike archive to incorporate elements from the long-forgotten Nike ACG Pocket Knife. The result was familiar, but the added historical value gave it more substance than a typical collab. Unfortunately, while it was a worthy addition to Travis Scott's already impressive Nike portfolio, it will always have that asterisk. —Zac Dubasik
5. Union x Air Jordan 2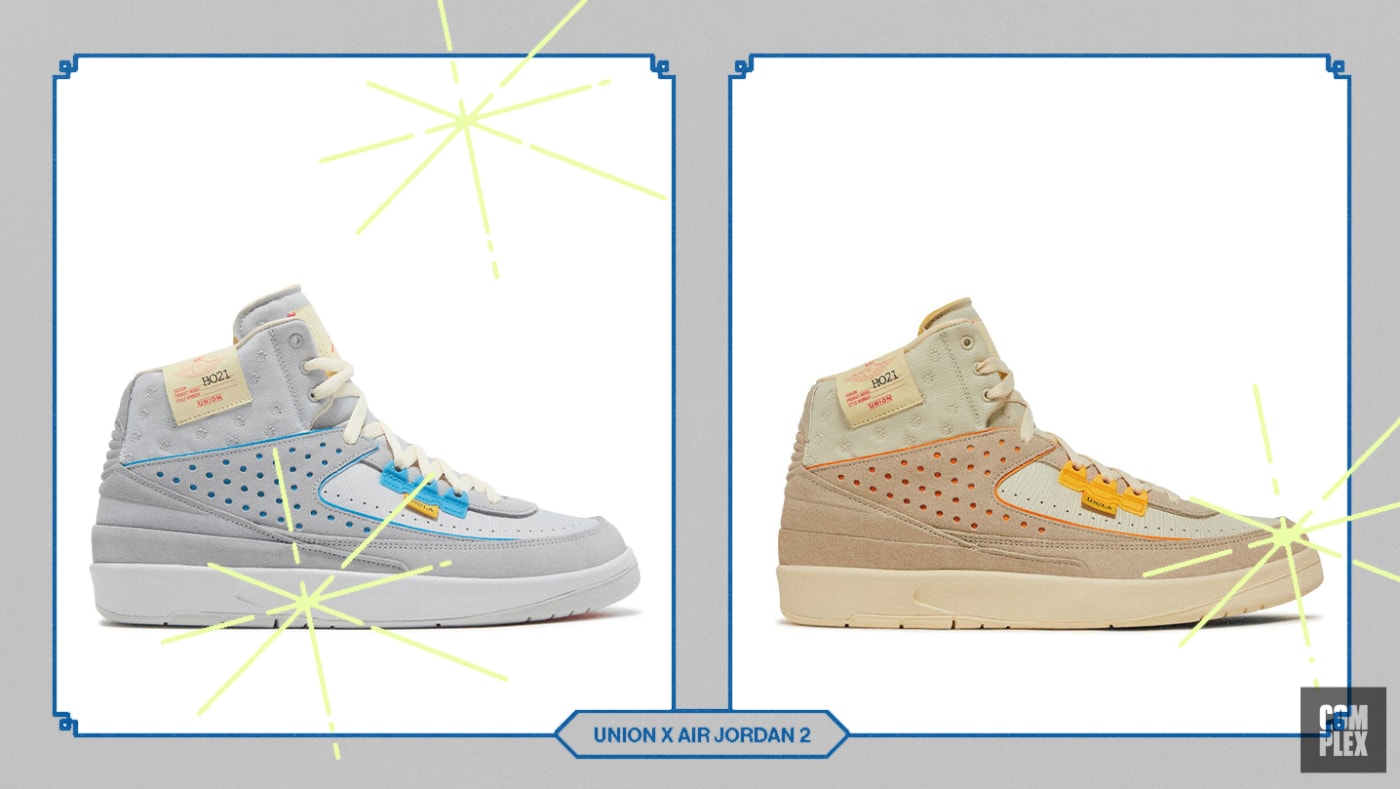 Release Date: April 15
Price: $225
Union and Jordan Brand's latest project was actually meant to come out last holiday season, but supply chain disruptions held the "Future Is Now" Air Jordan 2s off until April. The irony is that the collection itself is based around the concept of time, reimagining the Air Jordan 2 with a futuristic spin that makes the shoe look like it's been battered through the years.
"For the 'Future Is Now' capsule, we wanted to juxtapose what some futuristic gear might look like after it had been worn and patina'd," reads the store's official description. "So often you see people's vision of the future and [it] is all crisp and sterile. We thought it might be fun to wear it in a little bit and make it organic."
The result is two colorways of Michael Jordan's second signature sneaker, both of which feature premium materials and are based around earth tones with dashes of color pop. Understated yet packed with detail, the pairs are yet another W from the Union x Jordan team-up. —Riley Jones
4. Nike Kobe 6 Protro 'Mambacita Sweet 16'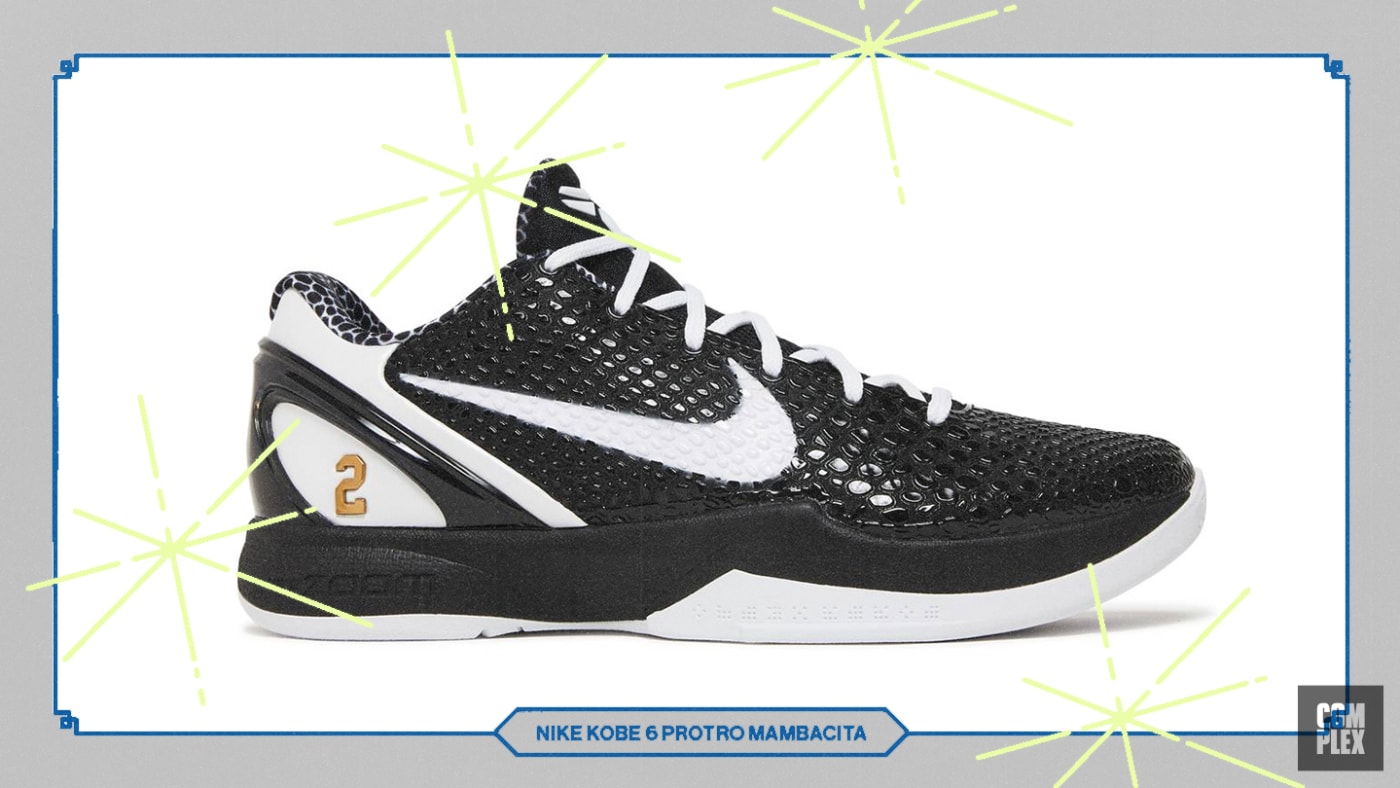 Release Date: May 1
Price: $180
Just a year ago, it looked like the days of new Nike Kobe releases were over. Complex broke the news in April 2021 that the late basketball legend's estate had not reached a new agreement with Nike. However, there were still a handful of Kobe retros slated for release. One of them was the "Mambacita Sweet 16" Kobe 6, a tribute to Kobe and his daughter Gigi complete with their jersey numbers on the lateral heel and a Mambacita logo stamped on the heel counter. As with many in-demand sneakers, images of the pair ended up leaking and some were even listed on eBay. 
"I wanted [the Mambacita shoe] to be sold in honor of my daughter with ALL of the proceeds benefiting our @mambacitasports foundation but I did not re-sign the contract with Nike and decided not to sell these shoes," Kobe's wife Vanessa wrote in an Instagram post at the time in response to the leaks. "Nike has NOT sent any of these pairs to me and my girls. I do not know how someone else has their hands on shoes I designed in honor of my daughter, Gigi, and we don't. I hope these shoes do not get sold."
Following the statement, eBay removed listings for pairs and other platforms deleted their landing pages for them. All signs pointed to the shoes never being sold in any capacity, until March 2022, when Nike announced it would resume its partnership with Kobe's family and work with Vanessa on special projects. The "Mambacita Sweet 16" Kobe 6 officially released on May 1, on what would have been Gigi's 16th birthday, with proceeds going to the Mamba and Mambacita Sports Foundation. Reselling ethics and some of the release troubles that arose from the drop aside, it was great to see such a meaningful pair given to the world the way that Vanessa intended. The Nike Kobe line has produced some of the best performance basketball sneakers of all time. Enhancing that legacy with a design that holds so much sentimental value to his family makes these that much better. —Mike DeStefano
3. Air Jordan 1 High '85 'Georgetown'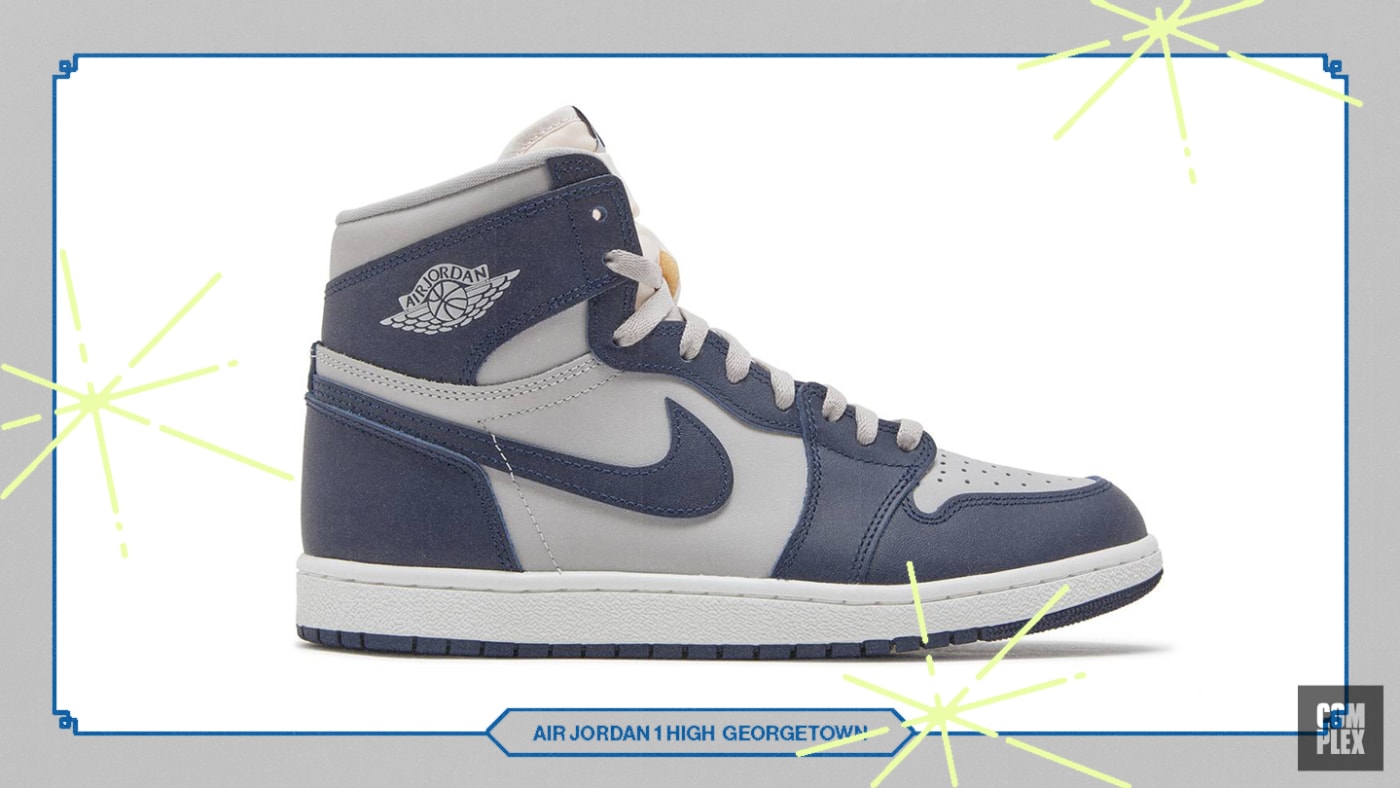 Release Date: April 2
Price: $200
Thus far, Jordan Brand's vintage-informed Air Jordan 1 Retro High '85 releases have been a mixed bag. Some of the colorways have left something to be desired. 2020's reverse "Banned" was great in theory, but it's hard to top the real thing, and even though the red-and-white "New Beginnings" pair was worn by Michael Jordan in the 1980s, it didn't hit quite like some of the more sought-after styles.
Deviating from the Chicago Bulls inspiration for 2022, Jordan Brand looked to one of MJ's college rivals for this "Georgetown" pair. Appearing to take a page from the Nike Terminator worn by Patrick Ewing and the Hoyas in the mid-'80s, this is a new Jordan 1 colorway that legitimately looks like it could have dropped back in the day. There's just the right amount of faux vintage treatment, too, with an oxidized-looking off-white tongue and the usual '85 packaging accoutrements. Making new shoes that look old has been a trend for years now, but this may be one of the finest examples yet. —Riley Jones
2. Union x Nike Dunk Low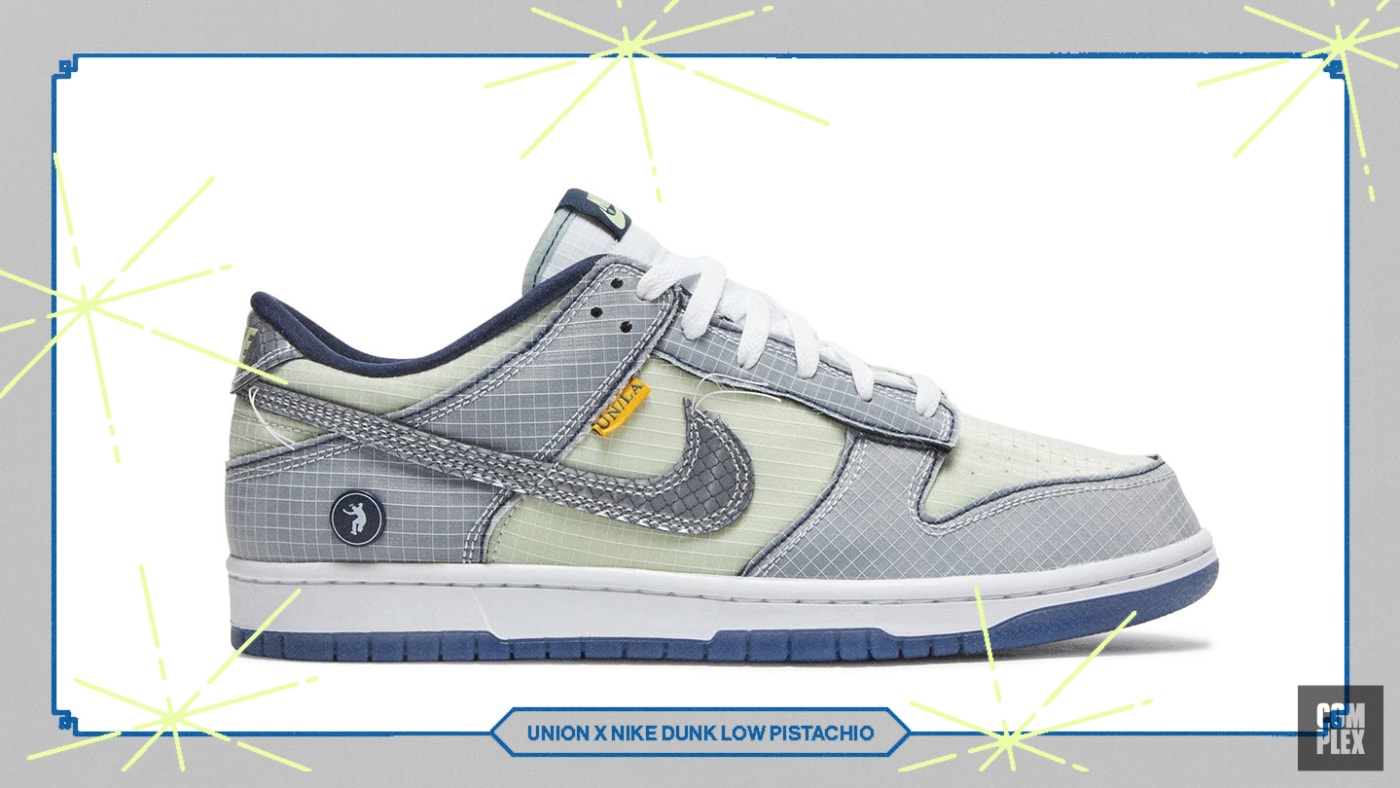 Release Date: April 2
Price: $150
Look, if you're sick of seeing Dunks by now, we totally get it. The retro 1985 basketball sneaker has been everywhere for the past two years, from the rare Nike SB versions crushing the resale market to the high-volume general release black and white pairs that are inescapable. The Nike Dunk moment that started off this decade has been an enjoyable return to glory for the silhouette, but also just a little bit tiring. How much more do we really need?
Chris Gibbs, owner of Union LA, had the answer. His shop introduced this trio of passport-inspired Nike Dunk Lows this year, using them to channel the glory days of its first retro period around the turn of the century. The colorways echo ones like the "Argon" and "Pistachio" that collectors crossed borders for in the early 2000s. They also eschew their anticedents to an extent, though, hiding established colors under translucent materials so as not to present them as straight bringbacks. The Union x Nike Dunk Lows managed to make the Dunk different while also feeling familiar. In 2022, that's not an easy feat. —Brendan Dunne
1. Louis Vuitton x Nike Air Force 1 Low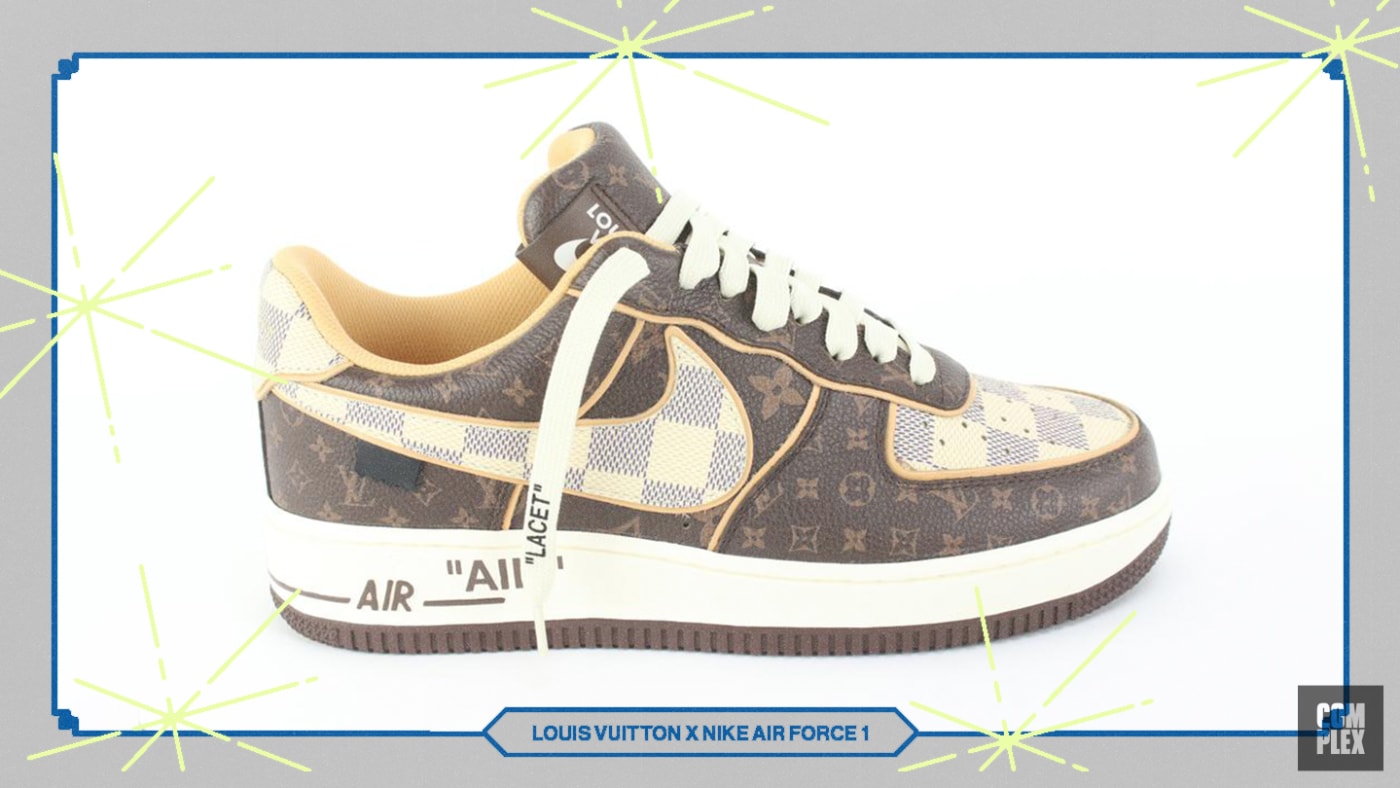 Release Date: 2022
Price: $126,500 (Average Auction Price)
No sneaker collaboration better epitomizes how ambitious Virgil Abloh was in his work than the Louis Vuitton x Nike Air Force 1. When the shoes were unveiled at Louis Vuitton's Spring 2022 men's show last summer, Abloh had already conquered hype footwear. He'd written a new design language with The Ten, his instant-classic debut with Nike from 2017, and extended his Swoosh work from there to include regular releases on a wide range of silhouettes. He rebuilt the Air Jordan 5, brought Uptowns to museums, and multiplied the Dunk by 50. But for Abloh, that wasn't enough.
His most impressive work in terms of scale and execution is the Louis Vuitton x Nike Air Force 1, which brought together the French house and the world's biggest sneaker company for the first time. They came first via a charity auction at Sotheby's of an exclusive colorway in February, with more arriving at LV stores this summer. Collaborations between sportswear brands and designer labels are increasingly common, but Abloh's made more sense than any, its story of sampling and Black fashion entrepreneurship stretching back decades. The Louis Vuitton x Nike Air Force 1 is a hype sneaker rich in heritage, riffing on references from Dapper Dan to Canal St to A Bathing Ape. —Brendan Dunne