Poker has been around for over a century. Still, sadly, for most of that time, people only played it indoors in casinos and shady taverns. However, the game's popularity has dramatically expanded since the advent of online poker. Nowadays, there are so many benefits to playing poker online that players worldwide enjoy the game.
Online poker is highly convenient for people who have decent internet connections on their gadgets. The most popular approach to playing poker on online platforms is in this manner.
Additionally, as poker is essentially a card game, playing it online is identical to playing it live. The game's medium varies from one to the other, but the gameplay is the same in each.
If you are thinking of trying poker games online, here are some benefits that might convince you to start playing.
Traveling is not necessary.
It is the most excellent choice for those who don't have much time to go out and play poker. As a result, you can play poker online while staying home, saving money on travel expenses. Instead of playing poker in casinos, one can use the money for traveling to add to their online bankroll.
Ability to play tournaments whenever you want
There are always games available to join whenever you feel like playing, whether they are sit-and-go or organized tournaments.
In physical casinos, it is not the case. You won't have many options if you want to see an event in person. Most games begin late in the day and last well into the night, making them a poor choice for someone trying to relax and have fun.
If that weren't enough, you might play in various tournaments online for as little as a few dollars, which is impossible when playing in person. Of course, this is acceptable, given that casinos cannot afford to offer these low-stakes games because they must pay their employees and cover other costs.
A way to improve your skill
Sitting at a table with other players can be intimidating. It is one of the significant obstacles for many people who wish to start playing poker. However, playing online allows you to begin with some anonymity, which for many new players makes it easier for them to settle in and learn the game without feeling under pressure.
Online is still a lot better location to practice even if you are familiar with the rules because you can play more hands per hour and gain experience more quickly. You can even test your skill by playing free Texas Holdem games.
Poker software can even be used to keep track of statistics, evaluate your performance, and observe other players' actions at the tables. Additionally, it speeds up learning and can be helpful in the beginning. Therefore, playing online will help you go over your competitors.
Additional formats are available.
Although Texas Holdem continues to be the most prevalent variation at offline and online casinos, playing poker online offers a broader selection of games.
While there may be a few tables of Omaha in a physical casino, you probably won't be able to sit down and play games like 6+ Short Deck as easily as you can online.
Playing online allows you to access a more comprehensive selection of poker-based games and expand your skill set by playing variations of the game that you might not otherwise come across.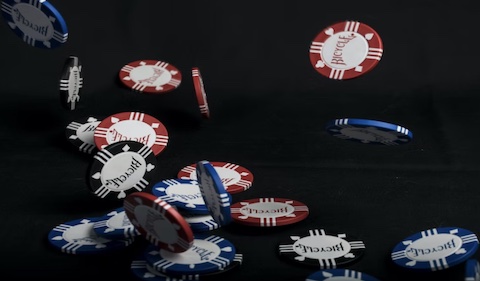 Faster Action
You are only allowed one table and a minimal number of hands per hour when playing live. If that were not enough, you might only play a few hands every hour if you are unlucky enough to sit next to a handful of players who take their time with every choice, even pre-flop. It could be enjoyable when you are just learning poker, but it is frustrating when you are looking to play.
Playing online poker for money gives you many options, and you can start as many tables as you want. You can play several times more hands than you would in live games, and you won't have to waste time waiting for your turn.
Better incentives and deals
Since there is fierce competition in the online gaming market, poker sites are constantly looking for ways to get you to play on their website rather than one of their rivals. It implies that you can always benefit from bonuses and promotions.
While you won't receive any substantial incentives in a live casino, you will in an online setting. You can also acquire additional incentives like deposit bonuses and other promotions, which will put more money in your bankroll.
Conclusion
Poker online is a convenient approach to learning and enjoying the game. There are plenty of professional players who even choose to play online due to the benefits they receive more than playing in live poker. If you want to experience the fun, visit GGPoker, the world's largest poker room, and find any game that suits your skill, compete with various players, and play as many hands as possible. Sign up at GGPoker today!